Current Streamflow Conditions
On the map below, click on one of the stream-monitoring locations to see a summary of current streamflow conditions, or click elsewhere on the map to open a larger view.
Drought of 2012
The Drought of 2012 is affecting streamflow conditions and other hydrologic parameters in Illinois. The USGS Illinois Water Science Center is providing important water-resources data to water management officials, the public, and researchers during the Drought of 2012. You can access the data directly through the sidebar on the left for the most recent data. Or you can go through a map interface for real-time streamflow, precipitation, and water quality, and all groundwater measurements by clicking which type of data you would like. Additionally, field staff from the Illinois Water Science Center have been collecting low-flow discharge measurements and observations from streams throughout Illinois. Download and view the measurements and observations spreadsheet.
To help monitor the on-going drought, the Illinois Water Science Center is providing bi-weekly information sheets to the State of Illinois Governor's Drought Response Task Force. View the information sheets below:
Below Normal 7-Day Average Streamflow Compared to Historical Streamflow for the Day of Year
Click on the map below to open a larger view.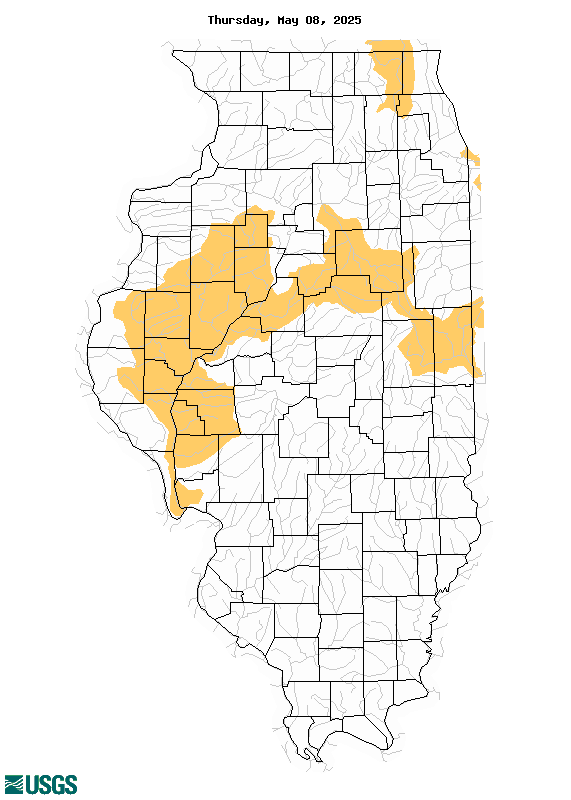 ILLINOIS DROUGHT-RELATED INFORMATION
WaterAlert
Now you can receive instant, customized updates about water conditions by subscribing to WaterAlert, a new service from the U.S. Geological Survey. Whether you are watching for low flows, interested in recreational activities, or concerned about the quality of water in your well, WaterAlert allows you to receive daily or hourly updates about current conditions in rivers, lakes, and groundwater when they match conditions of concern to you.
GENERAL DROUGHT-RELATED INFORMATION
GROUNDWATER-RELATED INFORMATION