Illinois Flooding Resources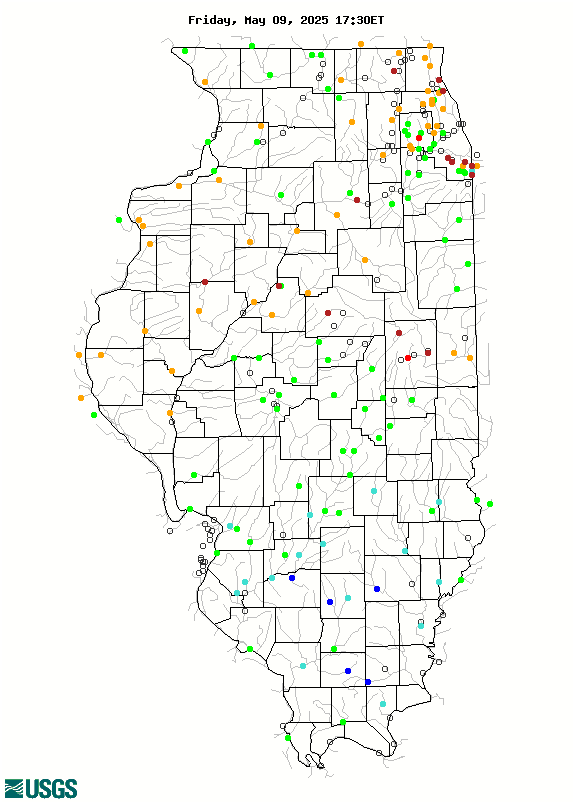 USGS Illinois Flood News
April 23rd 2013
previous1234567891011next
"USGS streamgage data are absolutely critical to our ability to forecast timing and magnitude of flood peaks. Without USGS data, our ability to issue accurate flood forecasts would be seriously jeopardized."
William Morris
Service Hydrologist
NOAA's National Weather Service, Chicago
The WaterAlert service sends e-mail or text (SMS) messages when certain parameters including water levels, as measured by a USGS real-time data collection station, exceed user definable thresholds.
On-demand, current conditions for water data directly to your mobile phone or email
How Are Floods Predicted?
USGS data during floods can provide early warning of rapid floodwater rises on major streams. At streamgage sites the water level is observed and then these data are transmitted so that it can be available real-time. Field crews are sent out during floods to take discharge measurements used to verify the data USGS provides to the federal, state, and local agencies, as well as to the public
Streamgages provide long-term data that scientists need to better understand floods and to define flood-prone areas as well.
There are about 250 USGS-operated streamgages in Illinois that measure water levels, streamflow, and rainfall. When flooding occurs, USGS crews make numerous discharge measurements to verify the data USGS provides to federal, state, and local agencies, as well as to the public.
More Flooding Resources
This page contains information and data regarding historic flooding conditions. Each flood from 1995 to 2011 is included on this page.
Real-time data typically are recorded at 15-60 minute intervals, stored onsite, and then transmitted to USGS offices every 1 to 4 hours, depending on the data relay technique used. Recording and transmission times may be more frequent during critical events. Data from real-time sites are relayed to USGS offices via satellite, telephone, and/or radio and are available for viewing within minutes of arrival. All real-time data are provisional and subject to revision. Build Real-Time Table Show a custom real-time summary table for one or more stations. Build Time Series Show custom graphs or tables for a series of recent data for one or more stations.
The U.S. Geological Survey (USGS) streamgages have always been a valuable tool for local officials to help keep people and property safe during floods. The data available from these streamgages are now being taken a step further by mapping inundation surfaces associated with a range of gage heights corresponding to various out-of-bank flows and presenting them on the web.
USGS Flood Publications
Major flooding occurred in northeastern Illinois during September 13-16, 2008, following extended storm activity.
The term "100-year flood" is really a statistical designation, and there is a 1-in-100 chance that a flood this size will happen during any year. Perhaps a better term would be the "1-in-100 chance flood."
In the late summer of 2005, the remarkable flooding brought by Hurricane Katrina, which caused more than $200 billion in losses, constituted the costliest natural disaster in U.S. history.
The spatial distribution of large gaged floods throughout the United States shows that the locations of most of the largest flows are related to specific combinations of regional climatology, topography, and basin size.